Falcon Smart Receiver Chaining
Falcon Smart Receiver Chaining
Overview
The Falcon 4-String Differential Smart Receiver Boards can be connected to many different controller options allowing between 4 and 16 strings to be placed up to 300+ feet from the host controller. The Falcon Smart Receivers can be daisy-chained together with up to three version one Smart Receivers in a chain or up to six version 2 Smart Receivers in the chain. Although adding receivers to a chain gives you more ports, it actually decreases the amount of pixels you can use for each chain. The daisy chain will also share the allocated number of pixels configured for the port it is connected to.
Modes and Pixel Loss
When the smart receiver is used in smart mode, the count of pixels per bank is reduced due to the overhead of the smart protocol. Below is a chart that depicts how many pixels are lost on each port pool at a given setting. When the smart receiver is in "dumb mode," it cannot be chained, however, there is no pixel loss. Depending on the model, when the receiver is switched to "smart mode," you may start losing pixels immediately even though no other receiver is in the chain.
| Receiver Version | 1 (Dumb) | 1 (Smart) | 2 (Smart) | 3 (Smart) | 4 (Smart) | 5 (Smart) | 6 (Smart) |
| --- | --- | --- | --- | --- | --- | --- | --- |
| v1.x | 0 | 30 | 60 | 90 | NA | NA | NA |
| v2 | 0 | 0 | 5 | 10 | 15 | 20 | 25 |
| v2.01 | 0 | 0 | 4 | 7 | 11 | 14 | 18 |
| SRx2v1 & SRx4v1 | NA | 0 | 4 | 7 | 11 | 14 | 18 |
Chaining and Pixel Pools
Different versions of the Falcon Smart Receiver can be chained together if the mode is the same across all nodes in the chain. Obviously, if you are using both version one and two Smart Receivers in a chain, the rules for the version one protocol will stand and thus you can only use up to three Smart Receivers in the chain. Smart receivers have a termination switch that should only be engaged for the last receiver in the chain. This applies to chains of one to six nodes for all smart receiver versions. The host pixel controller will allow for the assignment of a maximum amount of pixels per port of each receiver. If you decide to chain multiple receivers together, those pixels form a "pool" that is shared amongst like ports in the chain. For example: if port one of a receiver has a max possible count of 800 pixels at 40FPS, and you want to use three version 2.01 receivers in a chain, you would reduce the total max count by seven pixels (based on the chart above) for a total of 793 total pixels that could be used on all three of the first ports on the receiver.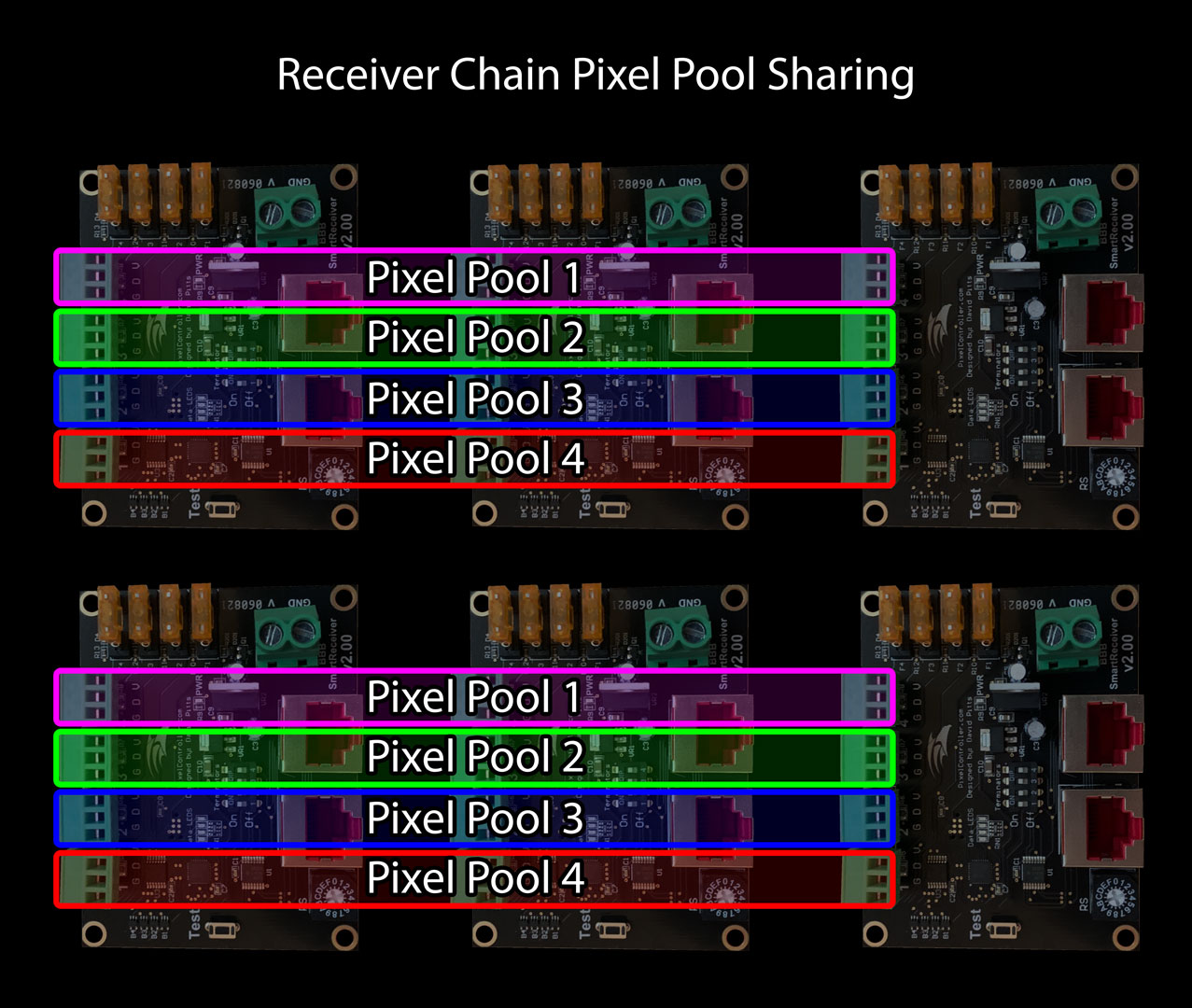 Originally Published 12/29/2022 EST
Updated 4/18/2023 6:38 PM EST
By Ken MacMaster